I have just finished reading Sense and Sensibility by Jane Austen, and even though my post will be going up later than it should be, I am glad to finally be able to write out this review.
Synopsis: Sense and Sensibility follows Elinor and Marianne Dashwood. Elinor is the one with all of the sense, never doing anything without thought.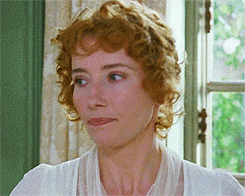 https://media.giphy.com/media/a03aXbhGnCWGI/giphy.gif
While Marianne is the sensibility half of the equation, with lots of overdramatic tendencies.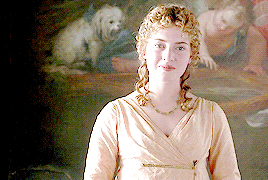 https://media.giphy.com/media/jcjRqjZ0TL2lG/giphy.gif
Their father has recently died and since the property is left to their older half brother their family moves to a cottage with relations of their mother's. This is not as simple as that though, for Elinor must leave Edward Ferrars, a man who she has started to form feelings for, and the entire family has to leave the only home they have ever known. When they finally get settled at the cottage Marianne meets Willoughby, a young man who she soon develops strong feelings for. However, when people turn out to not be like they appear to be, and secrets are brought forth, will Elinor and Marianne be able to make it through?
Rate: I will admit that I did not like this novel as well as some of the other Austen works I have read. While I don't think that there is an Austen work that I could hate, I will admit that there were parts of the story where I found myself almost not reading because I couldn't keep my focus on that particular part of the story. That's really the only thing that I have to say about the book that is negative. The story was incredible and all of the characters were so real. That is why I am going to give this book 3.5/5 stars.
THERE WILL BE SPOILERS AFTER THIS!!
Now it's time to get into what I love about these reviews and that is discussing what my favorite and not so favorite parts about the story are.
1. Elinor: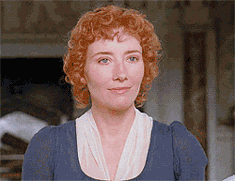 https://media.giphy.com/media/OnlBYDHOWyLIc/giphy.gif
I think I realized while I was reading this novel just how easy it is for me to relate to Elinor. Like her, I find it hard to talk about what's really on my heart, and like her I am also the oldest in my family. There was also what I read as a certain sarcasm to her at some points in the novel, such as when the younger sister Margaret is talking about Willoughby has a lock of Marianne's hair. "Take care, Margaret. It may be only the hair of some great uncle of HIS." or "It is not everyone," said Elinor, "who has your passion for dead leaves." It is obvious that Elinor is a lot sharper and wittier than I personally think anyone in her family gives her the right to be.
2. Marianne:
https://media.giphy.com/media/hhGVdTPTBaiys/giphy.gif
While it was harder for me to relate to Marianne, I will admit that I was able to relate to her on a few things. For example we both (well at least her before she marries Brandon) don't really think that we'll ever find a guy we can love, and we both have a love for music and reading. So, I guess that I have more in common with her than I thought.
3. SO MUCH LOVE!!!
There is so much love thrown around in the book, most of it circling around the same 4 people that it is sometimes hard to keep up with.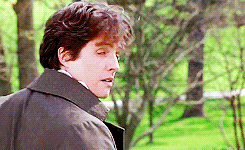 https://media.giphy.com/media/f1Jwi8q21RFrG/giphy.gif
I will say that while I love Elinor and Edward's relationship, because I believe it to be one that was made for two people very much in love, I do not quite feel the same way about Marianne and Colonel Brandon. Oh, I have no doubts that by the end of the novel they both love each other, it is just that there was nothing really in the novel to suggest the Marianne loved him, while there was plenty to suggest that he loved her. I guess that I just love the relationship between Edward and Elinor more than Marianne and Colonel Brandon.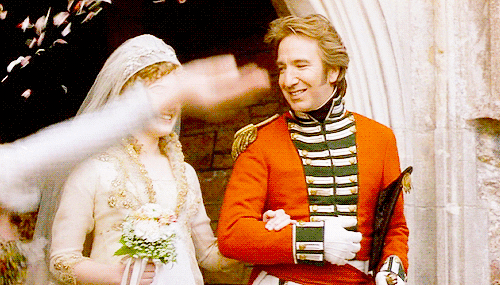 https://media.giphy.com/media/A12PzNMFaT3vG/giphy.gif
4. Mr. Palmer:
Even though he does not have a huge part in the novel I have to admit that I loved Mr. Palmer's character in the book. There was just something so entertaining about his sarcasm.
Favorite Quotes:
"I wish as well as everybody else to be perfectly happy; but like everybody else it must be in my own way."- Jane Austen
".... the more I see of the world, the more I am convinced that I shall never see a man whom I can really love." -Jane Austen
I am so glad to say that I am halfway through the Jane Austen novels for this month. I hope that you enjoyed this review and that you will share if you liked it. I had so much fun writing it!
Love,
Baleigh