I have just finished re-reading Pride and Prejudice and even though my blog post will be going up much later today than it should, I am glad to say that I have finished reading it. I will say that it seems as if I have read the novel for the first time, because the last time I read it, I listened to most if not all of it on audiobook, and there were a lot of things that I missed (I realized all of this while I was reading these past few days) and a lot of things that I did not fully understand.
Pride and Prejudice is a novel that was written by Jane Austen. It follows the Bennet family, but mostly Elizabeth and Jane. Their mother is obsessed with her daughters getting married off as the estate has to go to the first male, a cousin, Mr. Collins. When Mr. Bingley comes to town with his sisters and the proud Mr. Darcy it is safe to say that all of their lives are turned upside down.
I wish I could give a more favorable summary of this novel, but I am afraid that if I reveal too much it will give away what all happens. I will say, however, that the rest of this post WILL CONTAIN SPOILERS, so if you do not wish to be told what happens I advise that you stop reading here.
This post will not have much rhyme or reason to it, but I hope it will make at least some sense. I thought I'd go over some thoughts that I have after reading it.
1. Mr. Bennet
https://media.giphy.com/media/n7VcIDsiNnTDq/giphy.gif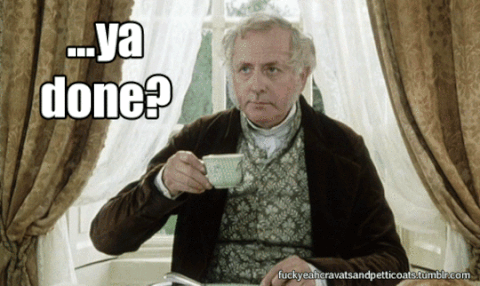 I will say this until the day I die, Mr. Bennet is not only one of my favorite father figures in literature but one of my favorite characters. How Jane Austen managed to create a character that is so sarcastic yet so fatherly is beyond me. And the way he feels as if it is his fault after Lydia runs away with Wickham is enough to make anyone feel dreadful.
2. The Love Story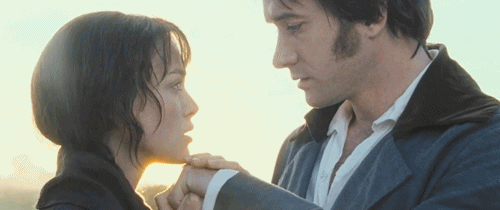 https://media.giphy.com/media/d3C2TKbAEBZ60/giphy.gif
I know that P&P is a love story, but I had never really paid attention to the minute little details. Paying closer attention to Elizabeth's innermost thoughts, especially after she reads Darcy's letter and then again when she sees him at Pemberley with her Aunt and Uncle, let's the reader into the mind of a young woman who is falling in love, even if that reader might not realize it at first.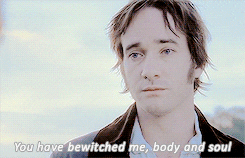 https://media.giphy.com/media/vTiWB6NYRkdKU/giphy.gif
3. Sibling Bond
I have always loved the bond between Darcy and his younger sister Georgiana. Even though we do not see much of her in the novel, it is evident that he loves her very much and is very protective of her.
My Favorite Quotes:
"...she had a lively, playful disposition, which delighted in anything ridiculous."- Jane Austen
"To be fond of dancing was a certain step towards falling in love."- Jane Austen
"..I give you leave to like him. You have liked many a stupider person."- Jane Austen
"I cannot fix on the hour, or the spot, or the look, or the words, which laid the foundation. It is too long ago. I was in the middle before I knew that I had begun."- Jane Austen
Those are my immediate thoughts on the book and I am very glad that I decided to reread it. I believe that so far Jane Austen Month has been a success! I cannot rate this novel highly enough and hope that if any of you ever get the chance that you pick it up.
Love,
Baleigh