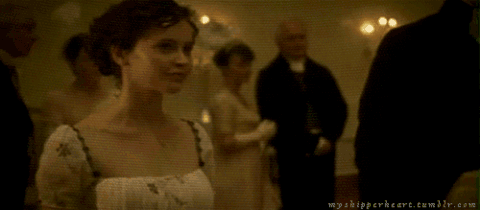 https://media.giphy.com/media/KXtH2GTZgVHZS/giphy.gif
I have just finished reading Northanger Abbey by Jane Austen and I am here to give a review of the novel!! Now I have, if I remember right, attempted to read this novel a couple of times, but unfortunately something would distract me from it. I am glad to say though, that I have now finished it and that I am super excited to write this review for you all!
Synopsis: Northanger Abbey follows the character of Catherine Morland.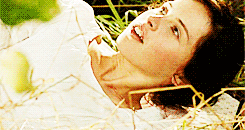 https://media.giphy.com/media/14SAcRzvD2ecw/giphy.gif
While Catherine was not a very attractive girl she is now seventeen and has grown attractive. Friends of the family, The Allen's, decide to take her to Bath so that she may spend some time there and it is at Bath that Catherine's life turns upside down. She meets many new faces including Isabella Thorpe and her brother John, as well as the Tilney family, including Henry, his sister Eleanor, and his brother Frederick. When the Tilney's ask Catherine to go to Northanger Abbey with them, it gives her yet another adventure to go on.
My thoughts on the novel are this: I personally loved it and I would recommend it to anyone.
Rate: 5/5
THERE WILL BE SPOILERS FROM HERE!!!!!!
Now it is time to discuss some of the things in this novel.
1. Henry: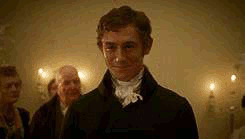 https://media.giphy.com/media/17UYtWv6uRcn6/giphy.gif
Okay, I am going to be completely honest, Henry Tilney might be my favorite Austen man right now, but not for romantic reasons. I can't see myself being with Henry, but I can see us being really good friends. He is such a good character and definitely one of my favorites from Austen so far. I also love the romance between him and Catherine and they are definitely one of my favorite Austen Couples so far.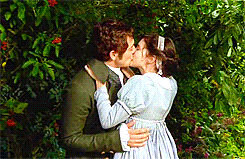 https://media.giphy.com/media/LIHVctAFMMU9i/giphy.gif
2. Isabella Thorpe: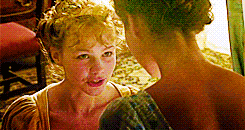 https://media.giphy.com/media/ZVvdl0xgN03rq/giphy.gif
I'm sorry but I dislike this character more than I dislike Caroline Bingley from Pride and Prejudice. (Which takes a lot for any Austen fan to say). My reasons are that while Caroline was awful the reader also knew she was doing everything to get Darcy (which even though we know Darcy belongs to Lizzy, I think we can all relate to feeling jealous of other girls when the guy we like likes them more than us). However, with Isabella, there seems to be no explanation as to why she is such an awful character! She is a ridiculous flirt and seems to have this habitual lying problem, but I think my main issue was how manipulative she was to Catherine.
3. Writing:
I found the writing in this novel to be incredibly enjoyable and did not mind reading for long periods of time. Since I have put myself on a bit of a tight schedule this month for Jane Austen Month I must admit that it is relaxing in a way that the novels I have chosen to read are entertaining and not dull at all. I will say though that I did not like the writing as much as the writing in Pride and Prejudice, but that could just be because I was able to relate to Elizabeth more than I can relate to Catherine.
Favorite Quotes:
"Now I must give one smirk, and then we may be rational again."- Jane Austen\
The person, be it gentleman or lady, who has not pleasure in a good novel, must be intolerably stupid."- Jane Austen
Love,
Baleigh