I was supposed to have a movie/mini series marathon this weekend, but I one, completely forgot, and two, really just didn't have time. So, I will be doing my favorite Jane Austen Movie Adaptations based on what I have watched in the past. Now you should know that the movies for Persuasion are not on here, since I have not gotten a chance to watch them yet. Also, these movies are being ranked based on how much I love and enjoy them, not necessarily on accuracy or what my favorite Austen Novels are.
5. Mansfield Park (1999)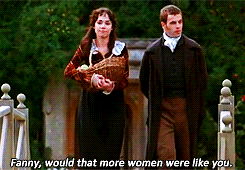 https://media.giphy.com/media/8Rl1EbUuut1pS/giphy.gif
Okay, I will give you this, the movie is really good and the cast in incredible. It's just that I have yet to watch a Mansfield Park adaptation that gets the story and the characters right. Now, I know I said that I wouldn't judge based on accuracy, and I definitely am not. This movie really is just my least favorite out of the five I will be presenting you.
Still this movie has a great cast and really great acting, it just doesn't follow the book very well so that could get frustrating for some people. I actually watched the movie before I read the book, so I couldn't really be disappointed, but I know after reading the novel twice, I would probably notice more things that are not correct. Still though, this is a really good movie and I would recommend it!
4. Emma (1996)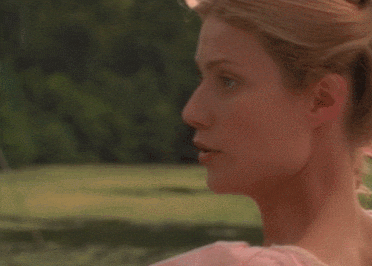 https://media.giphy.com/media/yQNJ8HpJ32ztK/giphy.gif
The fact that this movie is now this low in my eyes is honestly a bit weird. I love this movie, but I've recently found Jane Austen movies that I like a lot better. Still this movie is a must watch for any Austen fan in my opinion. The movie is gorgeous, and the cast is incredible.
3. Northanger Abbey (2007)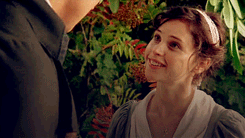 https://media.giphy.com/media/Gz06mEUZIWBl6/giphy.gif
Another movie that I watched before I read the book. I am so bad I know! (Although I am pretty sure I watched all of these movies before I read the books). Still I absolutely fell in love with this movie! The casting is wonderful, the story is great, and it's just an overall good movie.
2. Sense and Sensibility (1995)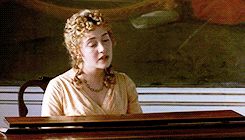 https://media.giphy.com/media/5HHeByLWOrIeA/giphy.gif
Okay, I probably haven't seen this movie in years and it is still one of my favorites! This movie might not be the best adaptation of the novel, but they did a pretty good job of putting all of the information from the book into a movie. The cast is incredible and the movie is just so amazing! I really regret not getting to do my movie marathon this weekend, because I really want to watch this movie again.
1. Pride and Prejudice (2005)

https://media.giphy.com/media/NTgWoDkCAFWi4/giphy.gif
I love this movie! Not only is this my favorite Jane Austen Movie adaptation, it is also one of my favorite movies in general. The acting is amazing, the score is beautiful, and the movie is literally one of the most stunning things I have ever watched in my life. I even watched this movie again this weekend on a whim simply because I wanted to. This movie is so good and I highly recommend it to anyone!
I hope that you enjoyed my ranking of my favorite Jane Austen movie adaptations. I had so much fun writing it and now I really need to watch these movies again!
Love,
Baleigh