While I did not have time this month to do my Jane Austen Series Marathon I thought it would still be a cool thing to talk about some of my favorites. These are not going to be in any specific order and I will also be including adaptations of Jane Austen's works that are modern. The only rule is that they have to be in a series type format.
1. Pride and Prejudice 1995: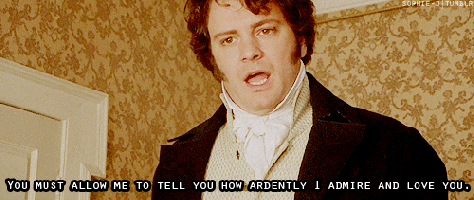 https://media.giphy.com/media/6AzWPq00KBtEA/giphy.gif
I will admit that I think I have only watched this series once. I enjoyed it and thought it to be incredibly faithful to the novel (I still prefer the 2005 version though. Sorry not sorry). I really want to watch it again so I can see if I can enjoy it even more after a second watch. This is a very faithful adaptation and I recommend it!
2. Pride and Prejudice 1980: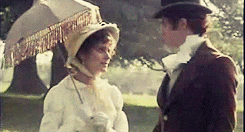 https://media.giphy.com/media/VuvIYzusRBVyU/giphy.gif
Another version that I think I have only watched once. I was actually surprised by how much I enjoyed this adaptation though. I thought that Elizabeth Garvie who played Elizabeth Bennet did a great job of portraying her character. The actor who played Mr. Darcy though was not quite my cup of tea. He took the serious part of Darcy's character a bit too seriously. He was a good actor and he definitely got some of Darcy's qualities down but not all of them.
3. Mansfield Park 2007:
I am pretty sure I watched this but I don't remember much about it except that I enjoyed it and that it seemed to be fairly faithful to the book.
4. Emma 2009: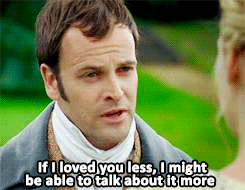 https://media.giphy.com/media/sy4wmZhSrwXi8/giphy.gif
Okay, I know I said that these weren't going to be in some sort of order but this is by far my favorite Jane Austen Mini-Series. I don't know what it is about this series but I love it. The acting is great, the chemistry between the characters is great, and it's just a fun series to watch.
5. Lost in Austen: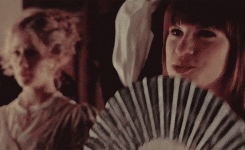 https://media.giphy.com/media/H9VHsw56uyFcA/giphy.gif
This one goes a bit into both modern and fanfiction. This series explores the idea of what would happen if a woman from our world ended up being sent to the world of
Pride and Prejudice
. While this isn't the most faithful adaptation because the addition of someone from our world turns everything in Jane Austen's upside down this is still an incredibly fun series to watch!
6. The Lizzie Bennet Diaries: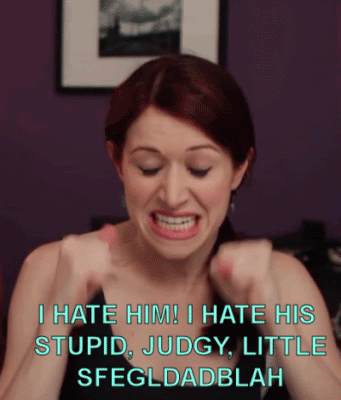 https://media.giphy.com/media/s51XhKPOqcVP2/giphy.gif
This is the modern adaptation of
Pride and Prejudice
and if you have not watched it yet I don't know what you are doing with your life. The characters are great and they managed to tell a classic story in a modern way. It's also done vlog style so the videos are basically just Lizzie Bennet's video diary entries. It's so good though and I highly recommend.
7. Emma Approved: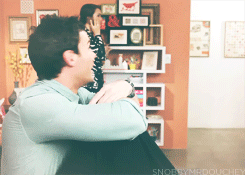 https://media.giphy.com/media/yrnqa69Um4RzO/giphy.gif
This is, of course, the modern retelling of
Emma
. Just like The
Lizzie Bennet Diaries
this series takes place in a vlog format on YouTube and is also incredibly good. While it never got as popular as The Lizzie Bennet diaries I personally think that it was just as good and in some cases maybe even better. Still, this is another one that I highly recommend!
I hope that you enjoyed my list of Jane Austen Series. I really enjoyed being able to remember all of the ones I have watched. Now I just need to find time to watch them over again! I also really hope that I am not forgetting any that I have watched!
Love,
Baleigh